About Emepelle
Emepelle is a skincare innovation to help empower women coping with menopause. The Emepelle goal is to make menopause and the years beyond less of a struggle. As difficult as it may sometimes seem menopause can be a time of your life that you can embrace. Emepelle is here to help.
Menopause brings many changes to how you feel and how your body behaves. The decline and loss of oestrogen during menopause and in the years beyond are the root cause of this. Understanding how your body works and how that makes you feel and look is key.
Menopause and the loss of oestrogen causes significant changes in your skin. It affects your skin like no other time in your life. It causes a rapid and ongoing loss of collagen, a lack of moisture, sagging and a loss of vitality. You may have noticed how your skin has changed but not associated it with menopause. Emepelle has been created especially for you.
Emepelle is the only skincare to contain MEP Technology; a technology researched and developed specifically for women affected by menopause.
The Emepelle community is here to help you look and feel your best. You can get help and support by:
Emepelle is brought to you by AesthetiCare; a division of Ferndale Pharmaceuticals Ltd, UK. Members of the Ferndale Pharma Group Inc, USA. Our mission is to provide leading skin technologies, plus all the help and support  you need to  look and feel great.
ALASTIN Skincare is thrilled to announce our new partnership with Galderma — a leader in the dermatological space. With a shared commitment to innovation and making a positive impact in the lives of our customers, this union is a match made in skin heaven.  Together, Galderma and ALASTIN will continue providing breakthrough and high-quality products.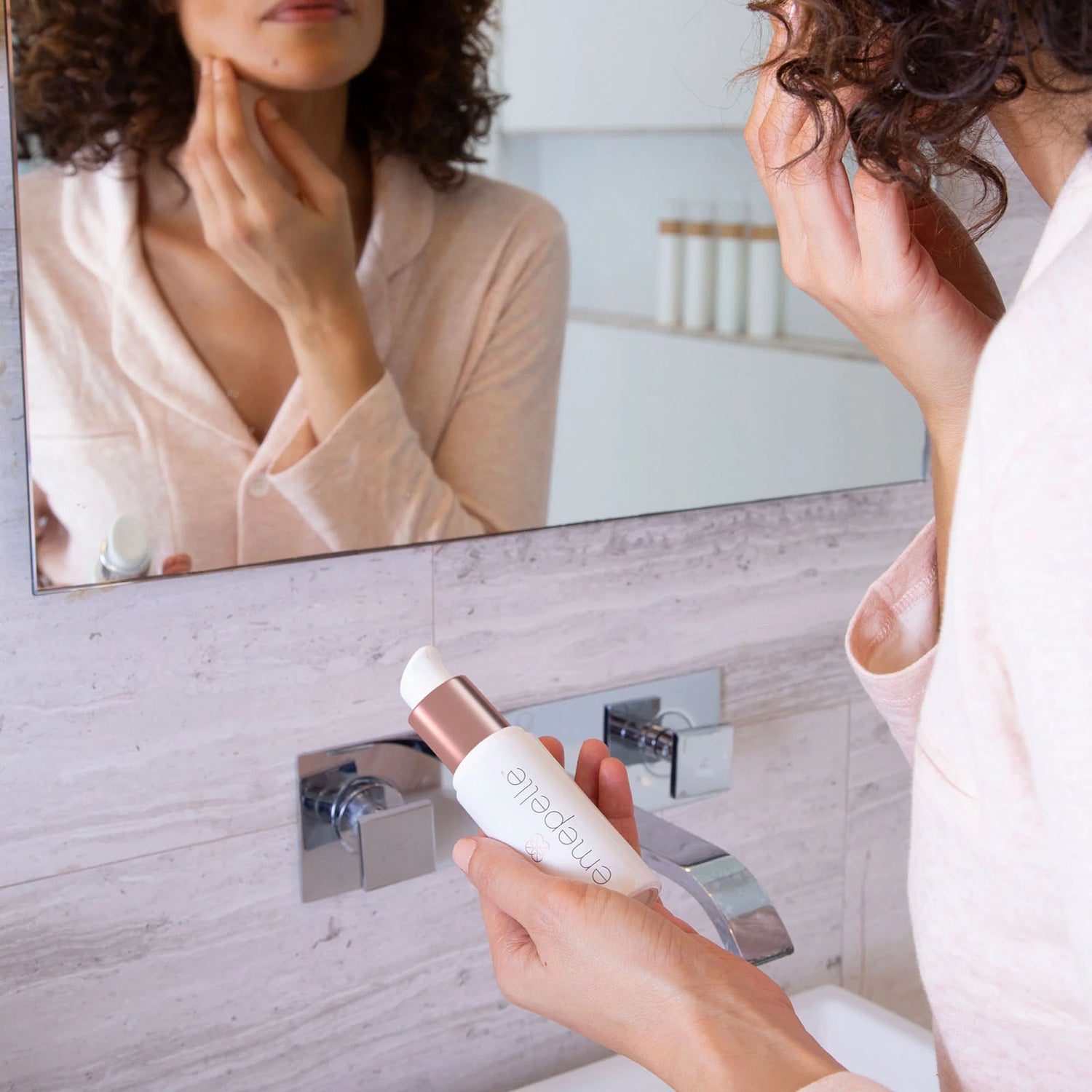 How Menopause Affects the Skin
Oestrogen is an essential ingredient in maintaining healthy skin. It activates oestrogen receptors in key skin cells, stimulating the production of collagen, elastin and hyaluronic acid to promote healthy skin and a vibrant looking appearance.
As oestrogen levels decrease during menopause, the skin loses a large amount of collagen over a short space of time.
30% loss of skin's collagen within the first five years of menopause
1% loss of skin's collagen in each subsequent year
1% decline in skin thickness in each postmenopausal year
This is the reason why as you approach and go through menopause, you'll probably notice some big changes to your skin. Increased dryness, sagging, dullness, more wrinkles; it's all normal. The good news is, you can take control and redefine how your skin ages.
Reference 1: Archer DF. Postmenopausal skin and oestrogen. Gynecol Endocrinol. 2012;28)
How Emepelle® Restores Vitality to Menopausal Skin

The Emepelle regime contains a host of active ingredients including retinol, antioxidants and hyaluronic acid. But what makes Emepelle totally different to even the best traditional anti-ageing creams is that it also contains MEP Technology®.

MEP Technology: A Breakthrough Innovation for Menopause Skincare

MEP Technology® is a new kind of ingredient that rejuvenates menopausal skin. It encourages the skin to behave as if the oestrogen were still there. MEP doesn't add oestrogen to the body. Instead, it helps key skin cells work the way they did before menopause, when they were being stimulated by oestrogen. This process helps restore lost collagen and vitality. Resulting in younger-looking skin that's hydrated, brighter and firmer.
MEP Technology® And Emepelle® Clinically Proven Benefits
MEP Technology® and Emepelle® have been thoroughly tested in clinical studies by leading dermatologists. Here's what they found.
MEP Technology® Delivers Clinically Proven Results
Emepelle® Delivers Clinically Proven Results
Emepelle combines MEP with advanced cosmeceutical ingredients, including retinol, peptides, niacinamide and hyaluronic acid to treat skin affected by menopause, significantly improving hydration, firmness and brightness.

A 20-week clinical study by leading dermatologist, Joel L Cohen MD, showed Emepelle is clinically proven to significantly improve the visible signs of ageing caused by menopause.