About Us
PCA SKIN was founded in 1990 by an aesthetician and developed by a dermatologist. Our company is grounded on three core pillars: product innovation, excellence in education and unparalleled customer support.
PCA SKIN is the innovator of the modified and enhanced Jessner's peel and over the past decades our line of blended chemical peels has expanded to include treatment options for all skin types, ethnicities and conditions. Over one million PCA SKIN peels are performed globally each year.
The PCA SKIN R&D, product development and quality assurance processes are above and beyond industry standards. Our formulas are researched, designed and executed by our in-house PhD chemist. We address each skin condition holistically, with products combining the newest and most efficacious ingredients paired with proven, tried and true ingredients to create unparalleled, visible results. We have a solution to address a wide variety of skin types and conditions.
For our more than 25-year history, we have been the leader in skin health education. We teach clinicians globally in the physiology of the skin and the safe and effective application of chemical peels.
Our customer support team is made up of licensed aestheticians who are always ready to help you with any skin health, product or business questions. We work diligently to consistently deliver on our promises and exceed expectations.
Our Vision and Mission
PCA SKIN® has been and continues to be a trusted innovator in the development of highly effective professional treatments and daily care products. Our vision is to improve people's lives by providing results-oriented skin care solutions that are backed by science for the health of your unique skin.
PCA SKIN treatments and products are available through licensed skin health professionals that have been trained and certified by PCA SKIN in their use.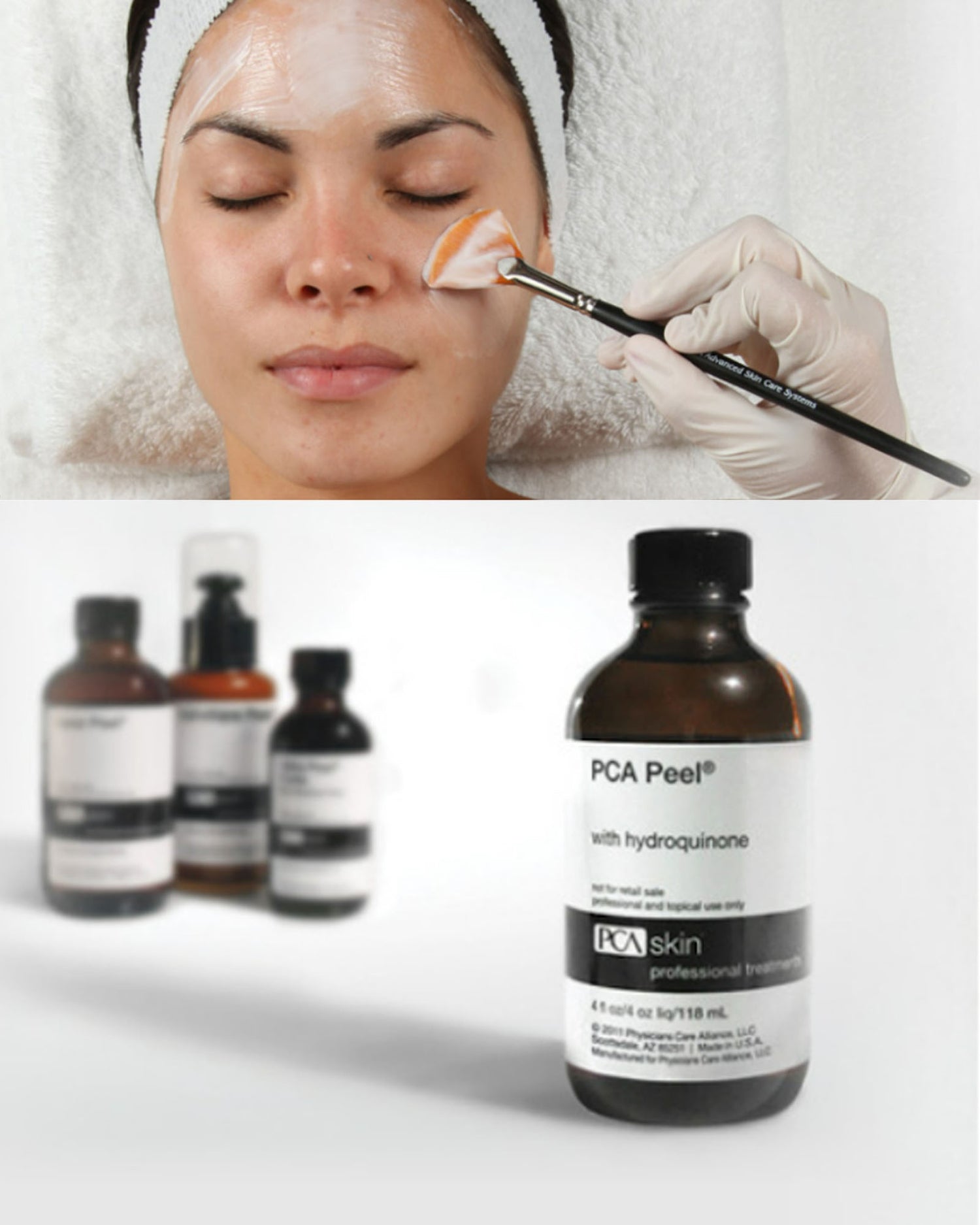 Revolutionizing Professional Treatments
Expertly formulated chemical peels are a driving force in helping you achieve your skincare goals. PCA SKIN® is the leader in chemical peels with more than 25 years formulating the best and most innovative professional treatments in the industry. More than one million PCA SKIN peels are performed globally each year.There are a myriad of benefits from regular chemical peel treatments. With formulations for all skin types – even those with sensitive skin – PCA SKIN peels improve skin concerns: acne, hyperpigmentation and aging. These challenging skin concerns are improved with our perfected formulas by increasing the skin's cell turnover rate, bringing new skin cells to the surface, reducing signs of fine lines, wrinkles, dark spots and clearing breakouts.
PCA SKIN was the first company to develop and market the modified and enhanced Jessner's peel, a solution that combines lactic acid, salicylic acid, kojic acid, citric acid and resorcinol. This revolutionary reformulation provides safer application, a more comfortable treatment and increased skin benefits. The PCA Peel® line of modified and enhanced Jessner's peels is in medical and aesthetic offices all over the world. PCA SKIN line of peels has since expanded to include TCA and lactic blended peels, retinoid peels and boosters, and chemical peel alternatives.
The professional line of treatment products is sold exclusively to PCA SKIN Certified Professionals, ensuring safe and effective application every time.
Shop now
Collapsible content
Cleanse | Your first step to healthy skin

Cleansing is an essential step that removes makeup, dirt, oil and other impurities ensuring corrective products are absorbed into the skin.
Tone | Extra care in your daily care

This optional step in PCA's daily care regimen offers additional nutrients and exfoliation to the skin.
Correct | Customized to your individual needs

From aging to acne to discolorations and sensitive skin, the corrective step features specific products that address individual skin concerns.
Hydrate | Fostering a healthy radiance

Your skin type will determine which hydrator is best for you based on how much moisture your skin needs. Hydrating morning and night is key.
Protect | Your best tool for prevention

Broad spectrum sunscreen should be applied every morning 20 minutes before sun exposure to protect against fine lines, wrinkles, inflammation and even skin cancer.
Mask | Purely detoxifying

Using a mask on a weekly basis provides deeper exfoliation, giving your skin that extra glow.
Uniquely formulated products for the health of your skin
Formulating products that improve the health of your skin is a cornerstone of PCA SKIN®. We hand select ingredients that are uniquely compatible with the skin and body to ensure the best results are achieved. Our finished daily care and professional treatment products are created to work together in customized regimens that deliver healthy, beautiful, younger-looking skin. When choosing ingredients and developing products we always maintain a deep respect for human health, animals and the environment. This is why all PCA SKIN products are free of synthetic dyes and fragrances, mineral oil, lanolin and phthalates. PCA SKIN pairs health, beauty and science to create each of our unique formulations that offer you an effective solution for the health of your skin.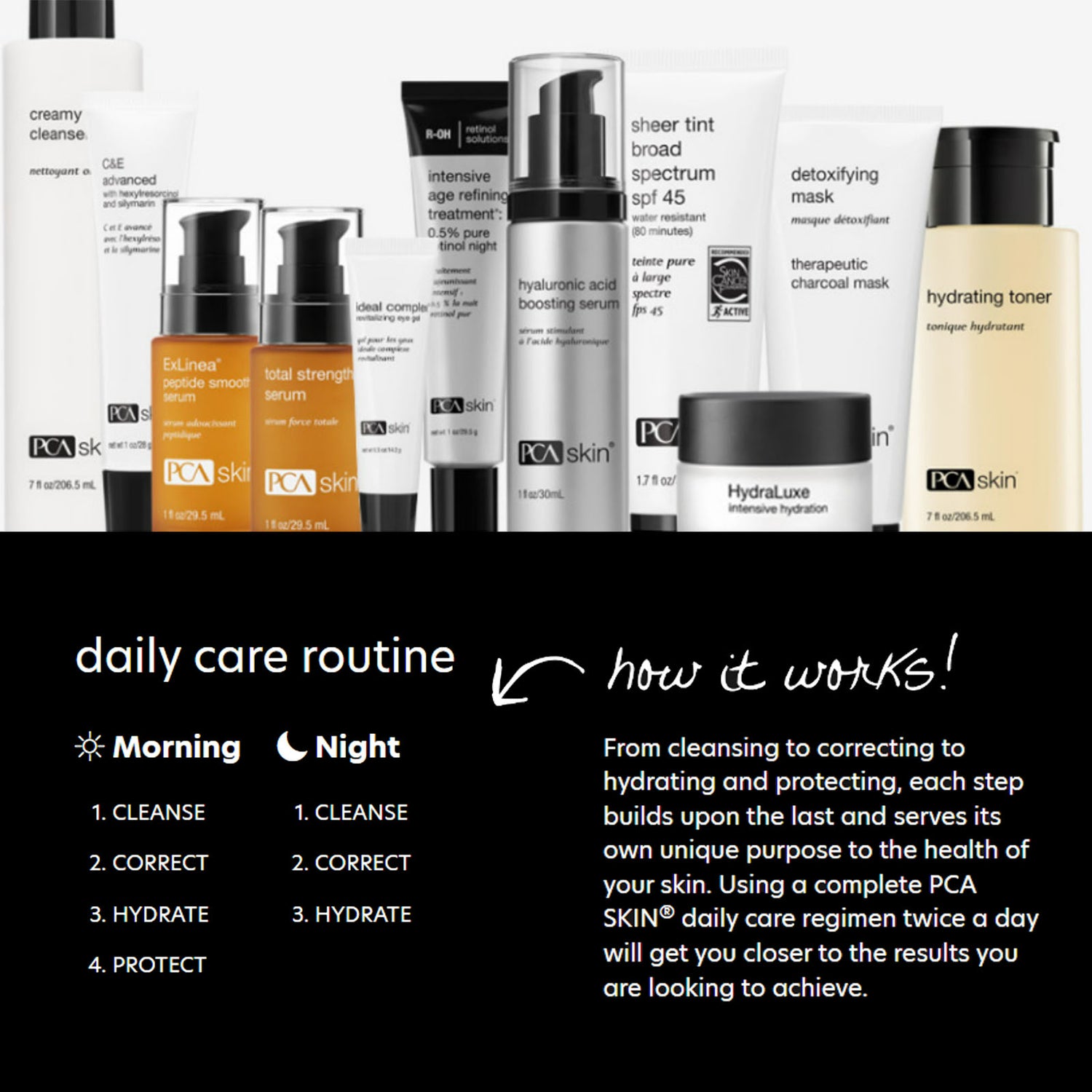 Your daily care regimen, your skin is unique, your products should be too
Using a complete daily care regimen will help you achieve your skin care goals. All PCA SKIN® daily care products are formulated to work together, no matter the combination. Each regimen should include at least one product from the following categories: cleanse, correct, hydrate and protect.
Shop now
Collapsible content
Formulating Philosophy

Our promise to deliver safe products

At PCA SKIN®, we use clinically-backed research and science to develop safe and effective products that deliver healthy, beautiful skin. We accomplish this while maintaining a deep respect for human health and the environment.
Ingredient Philosophy

Formulated with nature in mind

We formulate with ingredients found naturally in the skin and body for maximum compatibility. This ensures optimal results without unnecessary side effects.
Important Peeling Ingredients

Strategic combinations to address a variety of concerns

PCA SKIN® uses blends of well-tolerated, safe and effective peeling ingredients to break down surface buildup. Results are dramatic when used in conjunction with a comprehensive daily care regimen.
Efficacy

Tested for optimal outcomes

Formulating new products takes years to perfect. Before a new formulation is released, PCA SKIN performs extensive product testing and all finished products are tested with patients in medical practices.
Animal Testing

PCA SKIN® does not conduct animal testing in the development of the formula or claims support for any product. In addition, PCA SKIN® is committed to working toward the elimination of all laboratory safety testing using animals and strives to address safety assessment requirements for our products using available databases and non-animal alternatives. In rare instances, local regulation may require animal tests on our product at a contract facility that meets government standards and requirements.
Progressive Approach

If a little of something is good, more is not always better

Effective and consistent outcomes are our priority. Your PCA Certified Professional is trained to select the correct treatment plan for you and will build from one treatment to the next to ensure your skin is ready for the next step.
Understanding Skin Concerns

Achieve healthy skin, no matter your concern

With products that are specifically formulated to target signs of visible aging, acne, skin discolorations and sensitive skin conditions, PCA SKIN® can help you get the skin you've always wanted.
Visible Aging

Age is just a state of mind – it doesn't have to be the state of your skin

Collagen and elastin breakdown and their production decreases
Fine lines and wrinkles appear due to a lack of collagen and elastin support
Cell turnover rates and hydrating components decrease, leading to dry, flaky skin
Sun-induced skin discolorations often occur

Fine lines, wrinkles, sagging and dark spots are all signs of visible aging. There are two types of skin aging: intrinsic, which happens naturally over time, and extrinsic, which is a result of external factors like sun exposure, pollution, smoking, alcohol use and other lifestyle choices. Mild facial wrinkling, expression lines, and dry, sensitive skin are likely a result of intrinsic aging. Extrinsic factors are thought to be responsible for 85% of visible aging, with sun exposure being the leading cause. The suns damaging rays breakdown the skins support structure, leading to discoloration of the skin, wrinkles, sagging and, in some cases, even cancer.

When treating visible facial aging, you'll want to use products that treat both existing conditions and also protect the skin from future damage.

Discoloration

Don't fight skin discoloration, get even

Inflammation (caused by sun exposure, acne, hormonal shifts, or a cut or burn)
Excess pigment first develops deep within the skin
The excess pigment spreads across skin cells, but is not yet visible
The excess pigment sets a stain in the skin, which will continue to produce dark spots over time. Without treatment, discoloration becomes visible on the surface of your skin.

Discoloration is an area of abnormal darkening of the skin, either visible spots or dark patches. Discoloration happens when your skin produces excess pigment, usually triggered by sun exposure, hormone fluctuations or skin injuries like acne, cuts or burns.

It is important to consult with a PCA SKIN® Certified Professional before using products to treat skin discoloration, as high percentages of certain ingredients can cause further irritation or darkening of the spots you're intending to lighten.

Acne

Break free from breakouts

Clogging of the pore
Increased oil production
Bacteria
Inflammation

Acne is the most common skin concern, affecting nearly 45 million Americans each year. Acne occurs when there is a build up of oil in your skin, which clogs your pores creating whiteheads, blackheads and pimples on the surface of your skin. Typically, acne develops where there is an abundance of oil glands, like the face, scalp, chest, back and neck.

While acne is common, its severity varies. There's not a one-size-fits-all remedy. Seeing a PCA SKIN® Certified Professional is the best way to ensure this condition is treated appropriately and specific to each person's unique needs.