About Us
Dermatologist Formulated Natural Solution for Thinning Hair
Millions of men and women deal with thinning hair. They spend thousands of dollars on useless scams claiming to restore a full head of hair, or suffer terrible side effects from the few treatments that DO work. The board certified dermatologists behind Revivogen knew they could create an affordable, easy-to-use solution that produced real results and no systemic side effects. That led to creating Revivogen MD: a clinically-proven topical treatment that takes a multifaceted approach to target the root cause of thinning and shedding hair, Dihyrdotestosterone, otherwise known as DHT.
The Natural Solution to Thinning Hair
Revivogen is comprised of safe and effective natural ingredients that have been scientifically proven to address the root cause of thinning hair by stimulating the hair follicle back into the growth phase and targeting the root cause of thinning and shedding hair: DHT. These natural ingredients include Gamma Linolenic Acid, Linoleic Acid, Alpha Linolenic Acid, Olei Acid, Beta Sitsterol, Saw Palmetto Extract, Caffeine, and Procyanidin Oligomers were selected because multiple independent medical studies have proven their effectiveness without systemic side effects.
Get Started Today
Revivogen's proven, natural ingredients deliver results without side effects. With just three simple steps, Revivogen makes it easy to combat your hair shedding with a natural treatment and help you get back a youthful appearance with thicker, fuller and healthier hair! With a 90-day money-back guarantee, what have you got to lose?
How does Revivogen Work?
The 3-Step Hair Growth Program
The Revivogen system features three natural hair restoration products. The Scalp Therapy, Shampoo and Conditioner work together to halt the production of DHT, which is the root cause of thinning and shedding hair. Reverse the aging process within hair follicles, even those recently dormant, to promote new growth and improve hair's look and feel.
1. Scalp Therapy Hair Serum

Daily topical treatment contains natural DHT-blockers and a variety of hair follicle stimulating ingredients.

2. Bio-cleansing Shampoo

A perfect complement to the hair serum, it prepares the area to fully absorb the serum for better results.

3. Thickening Conditioner

Adds thickness and volume with natural proteins that surround each hair shaft, while also reducing breakage.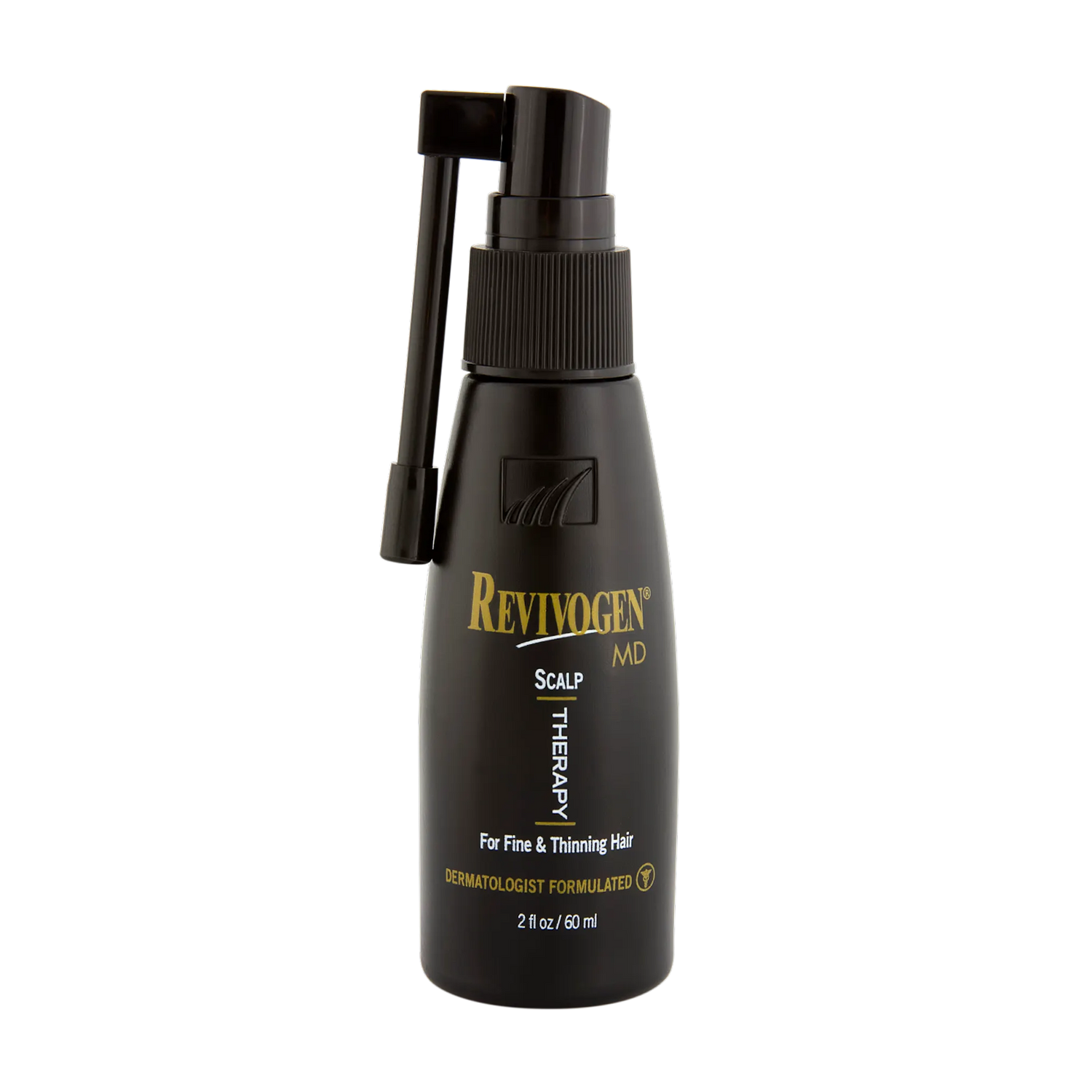 Scalp Therapy Hair Serum
Block Hair Loss Causing DHT
The cornerstone of the hair rejuvenation system, Revivogen Scalp Therapy blocks the hormone byproduct DHT from adhering to follicles and triggering hair fall.
Nature, Dermatologist Engineered
Revivogen's unique formula contains nature's strongest DHT blockers, clinically proven to inhibit type 1 and type 2 5-alpha reductase and reduce shedding.
Designed for Men & Women
Revivogen can be used by men or women looking for visibly thicker and healthier hair. Effective for all hair types and safe to use on color-treated hair.
New Hair Growth
In addition to 6 DHT-blocking ingredients, Scalp Therapy contains 2 hair growth stimulators. Existing hair becomes thicker & fuller, while reactivate hair follicles produce new, healthy growth.
Collapsible content
Complete Hair Rejuvenation Takes Time

If you've been researching options for improving hair growth or addressing thinning hair, you've undoubtedly seen a range of claims.

Tons of growth in just 2 weeks! 

My hair was thicker after a few uses!

One vitamin and my bald spot disappeared!

Androgenetic alopecia, the most common form of hair loss, doesn't happen overnight. It may be a while before you notice the extra hair in the shower drain has resulted in overall thinning or visible scalp along the temples or your part.

It would be nice if we could reverse that process in a matter of weeks, but the science of hair growth doesn't work that way. Returning your scalp and hair follicles to peak health, removing the DHT shedding trigger and using products properly formulated to nourish and strengthen hair as it grows back are the only way to address male and female pattern baldness.

Revivogen is designed to slow down hair shedding within the first 60 to 90 days of use. Clinical testing has proven that when used properly, the natural ingredients found in Revivogen may stop the hair shedding cycle and promote the growth of thicker, fuller and healthier hair.

If you are looking for a drug-free alternative, rich with natural botanicals, Revivogen is the solution for you. Effective for men and women with zero systemic side effects.

Consistency is key, but with commitment to a simple daily hair care routine you can turn back the clock on aging hair.
When Will I See Results?

The first two to four weeks: When starting the Revivogen regimen, some users experience increased shedding, especially of the lighter/thinner (miniaturized) hairs, but this means the treatment is working. Initial hair shedding occurs because Revivogen activates the hair's growth cycle. When this occurs, the hairs in the transition or resting phases fall out as the follicles' new growth cycle begins.

​Within 60 to 90 days: After two to three months, Revivogen increases hair growth and the thickness of existing hair.

Within three to six months: With regular, proper use, Revivogen continues to thicken existing hair and deliver a noticeable increase in scalp fullness.

After 16 to 18 months: Once maximum improvement is achieved, it may no longer be necessary to use Revivogen daily. At this point, using the products three to five times per week maintains results for must customers.
Which Growth System Should I Buy?

Revivogen anti-aging hair care comes in two different formulations.

Revivogen MD offers the base 3-step hair growth system of Scalp Therapy, Bio-Cleansing Shampoo and Thickening Conditioner. Revivogen MD's unique botanical blend has a slightly minty scent that some men and women prefer to the more floral, botanical scent of Revivogen PRO.

Originally developed for hair salon professionals, Revivogen PRO goes beyond the 3-step growth system to offer additional styling and care products.

Fine and thinning hair requires specially formulated products to moisturize and maximize volume without weighing down weaker strands, causing hair to look limp and lackluster. Help your hair look it's best at every stage of rejuvenation with Revivogen PRO scalp cleanser, dry shampoo and volumizing hair mask.
Revivogen's All Natural Ingredients
Hair Growth Treatment
The ingredients found in Revivogen are backed by clinical science that proves they address the various causes of hair thinning and loss. Learn more about the ingredients found in our natural hair growth treatment, and you'll see that Revivogen is the right choice for stopping and reversing your hair loss.
Blocking DHT to Stop Hair Loss
Gamma Linolenic Acid (GLA), Alpha Linolenic Acid (ALA), Linoleic and Oleic Acid are essential fatty acids found in plant oils. These fatty acids have been individually proven to inhibit 5-Alpha Reductase. In fact these are the most powerful inhibitors of 5-Alpha Reductase known today and not only they inhibit the Type II form of the 5-Alpha Reductase which other products like Propecia® inhibit, but also the Type I form of the enzyme which is present in high concentrations in the scalp, sebaceous glands, and the skin. Additionally GLA, ALA and Oleic acid have potent anti-inflammatory properties.
Saw Palmetto extract which is a known anti-androgen is the liposerolic extract of the fruit of Saw Palmetto, which has shown to effectively block DHT and is also believed to block the androgen receptors which are found on the hair follicles. Like GLA and ALA it also blocks Type 1 and Type 2 forms of 5 alpha-reductase and has shown to be more potent than Finasteride, the active ingredient of Propecia.
Natural Botanicals, Dermatologist Engineered
Board certified dermatologists combined nature's most potent DHT-blocking ingredients with essential nutrients and conditioners to fortify your hair while soothing the scalp and promoting new hair growth.
Linolenic Acid

Gamma linolenic acid or GLA (an Omega-6) is found in substances like evening primrose oil and borage oil.
Alpha linolenic acid or ALA (an Omega-3) is found in some oils derived from plant based sources like flaxseed or rapeseed.
These fatty acids have been individually proven to inhibit 5-Alpha Reductase, essential to stopping hair loss.

Linoleic & Oleic Acids

Multiple studies have found topical hair loss treatments that contain a mixture of Linolenic, Linoleic and Oleic acids significantly increase total hair fibers and anagen hairs; increasing thickness and scalp coverage upon dermatological assessment.

Saw Palmetto Extract

Saw Palmetto extract blocks 5-alpha-reductase, an enzyme that converts testosterone to DHT. DHT is the molecule responsible for hair loss.
Like GLA and ALA it also blocks Type 1 and Type 2 forms of 5 alpha-reductase and has shown to be more potent than Finasteride, the active ingredient in Propecia.

Oleanolic Acid

Oleanolic acid is antioxidant-rich and has antimicrobial properties.

Oleanolic acid is often used in hair growth products together with Biotinoyl Tripeptide-1 and Apigenin.

Aloe Vera

Aloe Vera helps to soothe scalp irritation and itchiness while conditioning hair, leaving it smooth and shiny.

Caffeine

Caffeine helps promote hair growth straight from the root in the initial phases of hair growth. It does this through targeting DHT, the hormone byproduct which causes hair loss.
Caffeine also helps increase blood circulation to the scalp which promotes healthy hair follicles.

Castor Oil

Castor oil is rich in ricinoleic acid—a type of fatty acid found to fight inflammation.
When applied to the scalp, it enhances the health of hair follicles and helps promote hair growth.

Chamomile

Chamomile conditions the scalp while nourishing and strengthening hair follicles, stimulating the growth of fuller, thicker, and healthier hair strands.

Comfrey

Vitamin and antioxidant rich Comfrey nourishes and moisturizes hair, while promoting new cell generation on the scalp.

Grape Seed Extract

DHT undermines the absorption of essential nutrients.
Grape seed extract contains a high level of vitamin E which nourishes both the hair and scalp.
Antioxidants from the grape seed extract work with other Scalp Therapy ingredients to reduce hair fall and encourage new growth.

Jojoba Oil

Jojoba has anti-inflammatory and antibacterial properties. Rich in vitamins & minerals, it nourishes hair and helps treat dry scalp & dandruff issues.

Limonene

Found in the oils of citrus fruit peels, Limonene has strong antioxidant benefits and reduces inflammation.

Linalool

Linalool terpenes are found in a variety of plants including lavender, mints, citrus fruits and cinnamon.
Linalool possesses anti-inflammatory properties and is a critical component in the production of vitamin E.

Mint

With natural anti-inflammatory properties, Mint (balm or peppermint) soothes scalp issues like dryness and itching commonly associated with hair loss. It also increases circulation on the scalp, helping to promote hair follicle health and hair growth.

Rosemary

Rosmarinus Officinalis or Rosemary Leaf Oil is rich in antioxidants and helps condition the scalp. Rosemary is one of many natural ingredients that helps stimulate hair growth within the follicles.

Sunflower

Rich in polyphenols, Vitamin F, and antioxidant properties. Sunflower extract enhances the thickness & sheen of the hair.